Golden Grove Landscapes
Design | Construction | Maintenance
Golden Grove Landscapes is an award winning landscaping company, established by Colm Ryan to provide an exceptional horticultural service to customers across Dublin. We have a strong belief in placing function before form and choose bespoke, natural, and high-quality materials so that the garden can strike a balance between beauty and functionality. As a highly experienced and professional Dublin landscaping company, we offer a range of services for all kinds of outdoor space ranging from garden maintenance, landscaping construction, and garden design.

By choosing quality equipment and modern techniques, our gardens can be aesthetically pleasing while also remaining practical. Golden Grove Landscapes' ethos is to work with nature and encourage it rather than fighting it. With this in mind, we place great emphasis on plant selection and quality finishes. This attention to detail ensures your garden thrives and can easily withstand the varying weather conditions of the Irish climate, keeping garden maintenance to a minimum.
Contact the team today
For a free quote on any of our Dublin landscaping and landscape design services
Our landscaping design phase involves our professional team assessing the garden space. We can provide plans, mood boards and 3D rendering so you can visualize the final design. We work with you to design a garden to suit your lifestyle and maximize the potential of the space.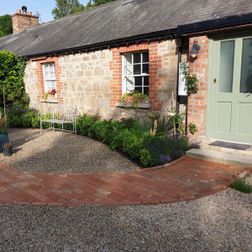 Our team of landscaping experts take care of all hard and soft landscaping design opportunities within your garden space. Our cost-effective service involves minimising the use of contractors for ease of project management and to keep costs down, creating a beautiful garden that is enjoyable, functional, and aesthetically pleasing.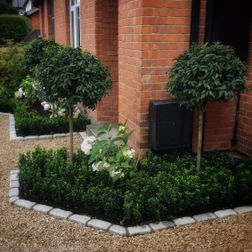 Golden Grove Landscapes provides clients with a comprehensive range of garden maintenance and garden landscaping design services. Our expert Dublin landscaping team provides clients with everything from lawn mowing and hedge trimming down to weed control, general garden maintenance, scheduled maintenance services, and topiary clipping.
About Us
Colm Ryan is the owner of Golden Grove Landscapes.

He had a great interest in nature and everything outdoors from an early age having grown up on a farm in County Laois, so a career in Horticulture was an obvious choice. He studied Horticulture in Waterford I.T. During this time he gained an internship to work in the Hamptons New York for six months and then graduated with a Bachelor of Science in Horticulture in 2012.

Following on from this, he then worked in the Dublin region for two well-known landscaping companies as a Garden maintenance team leader for a number of years.

Colm left home for Australia in 2015 where he worked in Landscape Construction on domestic and commercial properties. He worked for a number of well-established companies in both Melbourne and Sydney before returning at the start of the 2017 summer.

Colm's broad experience gained from working for many companies and in varying climatic conditions has given him a great understanding for the vital requirements of every garden. He has developed an eye for fine detail having worked in many managerial positions throughout his career and encompasses this in all his garden creations to ensure that even the most discerning client needs are not just met but exceeded.
For more information
On any of our garden landscaping services, contact the team at Golden Grove Landscapes today
Golden Grove Landscapes FAQ
Where can I find landscaping near me?

Golden Grove Landscapes provides Dublin landscaping services for domestic and commercial customers across Co. Dublin.

What landscaping services do you provide?

We provide a range of services here at Golden Grove Landscapes including hard and soft landscaping, garden maintenance, landscape planning, 3D drawings, landscaping consultations, and more.

How do I book a landscaping consultation?

To book a landscaping consultation with Golden Grove Landscapes, simply get in touch via phone or email, or book online today.

How much does it cost to hire a landscaper?

The price of landscaping hire varies depending on the service that you require and the size of your garden. Colm speaks to every potential client personally and always provides a customised quote. We pride ourselves on our fair and competitive pricing.